About Blue Skies Meteorological Services
Blue Skies Meteorological Services is a full-service weather and climate consulting company based in Gainesville, FL. We are dedicated to:
rigorous meteorological and climatological analyses
responsive and personal service
creating customized products that meet each client's unique needs, and
presenting complex weather and climate topics in a clear, compelling, and accessible manner
At Blue Skies Meteorological Services, we recognize that each client has their own priorities, objectives, and constraints, and for that reason, none of our services or products are "standard". Each report, each analysis, each presentation is tailored to your specific needs, and we will work with you throughout the research and development process to ensure that you are receiving exactly what you require, whether that's a weather event reconstruction, a climatological study, a weather risk analysis, or an investigation of the correlation between meteorological variables and business concerns.
We're a small shop, and our emphasis is on providing personalized service, rigorous analyses, and full support both before and after a report or product is written and delivered. When you pick up the phone and call us, you'll speak directly with the meteorologist who has worked with you from beginning to end – no phone tree, no sales team, no hassle.
Clear, engaging, and effective communication is also intrinsic in all that we do. The most extensive, rigorous research is only valuable if it is cogently communicated to those who need to know. We keep our audience in mind at all times and tailor all products to most effectively communicate with the intended audience, whether that audience is a judge, a jury, an insurance provider, a classroom of students, or a corporate CEO.
Experience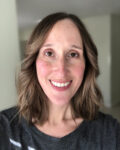 Megan D. Walker, Founder and Principal Atmospheric Scientist at Blue Skies Meteorological Services, is a certified consulting meteorologist (CCM) who earned her master's degree in atmospheric science from Purdue University and her bachelor's degree with honors in physics from the University of Tulsa. Her professional experience spans the disciplines of forensic and applied meteorology, climate and extreme weather research, sustainability, natural hazards mitigation, and emergency management.
In addition, Megan has taught physics and meteorology at several colleges and universities in northeastern Florida and has presented on the topics of climate change, environmental science, and sustainability to audiences that have ranged from elementary school students to subject-matter experts, from the general public to business, university, and civic leaders. Her CV is available upon request.
Contact information
For additional information about any of our services or to arrange a free consultation, please contact us at:

Affiliations